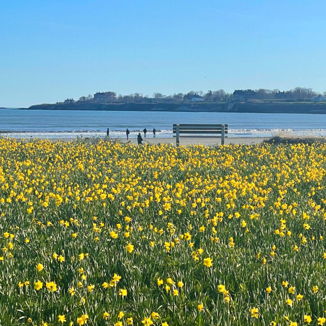 Your Favorite Spring Events Are Finally Here
Saturday, April 1st: Start of Daffodil Days
For the entire month of April, Newport turns yellow as 1.3 million daffodil bulbs take bloom. The bright yellow flower brings a 'daffodillion' reasons to visit Newport. This celebration brings a lot of fun events, click here for more information.
Saturday, April 1st: Annual Daffy Dog Paw-Rade
Dress you and your pup in daffodil attire and head to Bannisters Wharf for the start of the parade to Queen Anne Square. There will be awards for the best-dressed dog and human.
Saturday, April 8th: Daffodil Bike Ride
Enjoy a 4-mile bike ride while taking in the best views of the blooms all around Newport. The ride will finish at Ballard Park where over 20,000 daffodils were planted. This ride is free to register however a donation of $5 is suggested to help plant more daffodils in the fall. For more information click here.
April 14th - 23rd: Newport Restaurant Week
One week of crazy good restaurant deals paired with the 2nd Foodie Film Festival provided by JPT Film + Event Center.
Saturday, April 29th: Newport Beer Festival
Experience 40 craft brewers from all over Rhode Island and near by states all at Fort Adams.
May 13th - 21st: The Ocean Race Arrives in Newport
The greatest adventure stops in Newport for eight days of celebration! Come visit Newport to see the spectacular race boats and the incredible people who captain them.
Saturday, May 20th: Newport Oyster & Chowder Festival
A locals favorite spring event! Spend the weekend tasting delicious oysters from local growers.