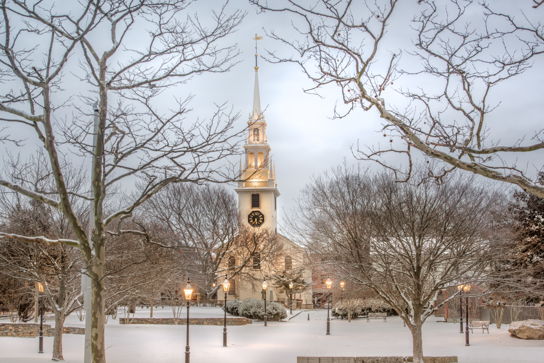 The arrival of the holidays illuminates the City by the Sea!
Discover the season's best food, sights and festivities on The Classic Coast:

Nov 17 - Dec 30: Sparkling Lights at The Breakers

Get Newport Mansion holiday information including events, tour dates and times and cost of admission.
---
Dec 1: Newport Art Museum, Public Opening Reception

Enjoy art exhibition openings at the Newport Art Museum on Bellevue, featuring a performance by Newport String Quartet! Admission is free with donations at the door highly encouraged. Learn more about the art exhibits on display!
---
Dec 1-16: Newport Winter Foodies Strolls
Newport Winter Foodies Stroll offers a 1-mile guided walking food tour along Newport's historic Thames Street. Click or tap to learn more about the delicious stops along the tour, view dates and purchase tickets!

---
Dec 2: Bowen's Wharf 53rd Annual Tree Lighting
The Annual Christmas Tree Lighting on Bowen's Wharf brings the magic of the holidays to Newport Harbor. "With over 30 unique shops & restaurants you'll find blazing fireplaces, the perfect gift, or something special for yourself! Experience a working waterfront with breathtaking views." Greet Santa and Mrs. Claus as they arrive for the event by boat, in true Newport fashion. Admission is totally free! (BowensWharf.com)
---
Dec 31: New Year's Eve in Newport
---
Feb 16: Newport Burger Bender Begins
Newport County and Bristol restaurants compete for the most votes on their mouthwatering burger offerings! Learn more about Newport Burger Bender and see the results of last year's competition!

---
Feb 16-25: 36th Annual Newport Winter Festival